The Breathtaking Tari Piring from Minangkabau!
Four more days to Enchanting Indonesia 2011 and we can't wait to see you all! As we are all preparing and making sure that things will go on smoothly, we're still updating for you guys on what to see at the event! For this post, we are going to know more about the incredible Tari Piring from Minangkabau!
Originated in a town called Solok in the province of West Sumatra, Tari Piring is one of the most enchanting traditional dances of Indonesia. Piriang, as it is called in its original Minangkabau language,symbolizes the farmer's joy for a successful harvest.
Tari Piring literally means plate (piring) dance (tari). It is the cultural dance of the Minangkabau people, influenced by the late Pagaruyung Kingdom, which ruled West Sumatra in the 14th century.
The dance ritual was originally performed by young ladies and men carrying food on the plates, to give thanks to the God for a successful harvest. Nowadays, this fast tempo dance is performed with dancers with only plates on each of their hands.
Depending on the choreography, the plates would sometimes be thrown into the air and the dancers will let them hit the ground to be broken into pieces. The dancers would then, without fear, step or jump or even roll around the broken glass without injuring themselves. This action of people leaping into piles of broken glass is considered to be the magic of Tari Piring.
Depending on the purpose of performing this dance, Tari Piring can have many different variations. These days, it is performed on public events, such as wedding parties, cultural events, etc. Some of thewell-known variations include Tupai Bagaluik (the moving raccoon), bagalombang (waving/curling), andaka malikik.
Throughout the performance, the dance is accompanied by traditional Minangkabau music, such astalempong (similar to the Javanese gamelan), bansi, puput, salung (a flute that is usually made from bamboo, reed or rice stalks), etc. The music starts off slow and soft but it gets faster with time. The music is a crucial element in Tari Piring since it directs the dancers to move in a certain way.
source: http://www.turisku.com/multiculturalism/tari-piring-minangkabau/
——————————————
Countdown to Enchanting Indonesia 2011!
Starting today until the 2nd of July, we will be bringing you updates on what you'll experience at the biggest Indonesian tourism exhibition and cultural performances in Singapore, Enchanting Indonesia!
As we are getting nearer to the 2nd of July, the list of the traditional dances which will be performed at the event is almost complete! Hundreds of performers are going to fly all the way to Singapore, straight from their native land to perform for the Singapore audience and we promise you that they will be spectacular!
Today we are going to share one of the many famous Indonesian dances and this one comes all the way from Aceh in Sumatra!
Yes it's the Saman Dance!
When you come across an Indonesian cultural performance in any international exhibition, it is very much likely that Acehnese vibrant traditional dance, the Saman Dance, would be one of the assorted cultural splendors put on stage. Mostly comparable with any Balinese dance, Saman Dance is one of the sweethearts of Indonesian performing arts, often acts as an ambassador of exceptional Indonesian dances.
Created by a native Acehnese, a religious leader named Sheikh Saman around the 16th century, the dance is widely known as indigenous to the Gayo society as it was born in Central Aceh. Many modern societies in Asian, Australian, and European nations have adopted its harmonious and impulsive mechanism. However, the originality and authenticity of the dance can never be imitated when the essence is always in Aceh.
Performed by a group of dancers wearing mostly colorful and bright traditional uniform, the dance is a development of an art of Acehnese dance called Pok Pok Ane. It is a singing of a poem, combined with claps of hands, pats on chest, and thigh slaps. The movements are so harmonious and sometimes vigorous that would leave the spectators in awe. Saman Dance is truly an entertaining performance that only beautiful minds can create such exquisite and artful techniques.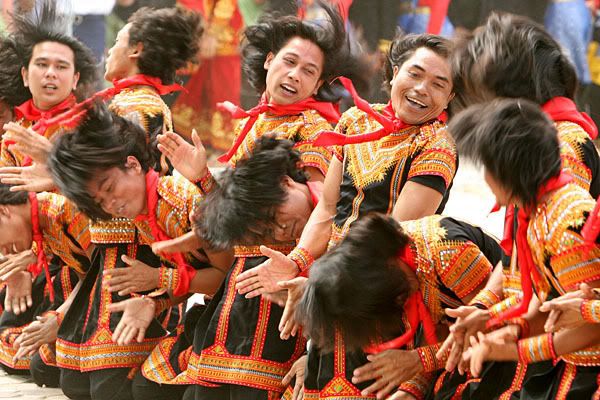 Watch this video of the Saman Dance being performed at Orchard Road as a part of the 'Asian Showcase' of the 2009 Singapore Arts Festival:
—————————————————
3+1 Reasons to Visit Enchanting Indonesia 2011
1. Festives:
Enchanting Indonesia 2011 – into its fifth year running – has always enthralled everyone with its wide range of Indonesian Cultural Heritage, especially showcased for you. From Sabang to Merauke, the Western Tip of the Indonesian Archipelago outstretched to its Eastern Tip, Indonesia is home for hundreds of thousands of the exotic cultural diversity, on top its alluring natural beauty.
Ever imagine how heavy is the 'Reog Mask'? It weighs around 50 – 60 kg each and is mounted on the dancer using his clamped teeth! Wow!)
2. Food:
This year's Enchanting Indonesia will surely never fail the expectation of each and every food enthusiast. Whether you are craving to find your spicy Padang Cuisine or whether you like traditional Indonesian finger foods (Jajanan Pasar), you should not miss Enchanting Indonesia 2011!
3. Fashion:
If you want to find some inspirations to  fill your wardrobe this summer, do not miss Enchanting Indonesia 2011. We are showcasing the creations of our best designers inspired by traditional mindset. These collections shall make you the 'fashionista' wherever you are,  be it along Orchard Road, going to school, or for formal events. Be different, be classy, and be trendy in a traditional way! Find you inspiration at Enchanting Indonesia 2011.
4. Friendship:
Last but not least, make friends! This is the rare opportunity for you to meet and make new friends, especially if you are planning to visit and see the avant garde beauty of Indonesia by your own eyes. Your local friends from various places and provinces of Indonesia, with vast knowledge beyond what your tour agent or your guide book can take you through, are ready to bring you into a brand new experience of Indonesia. Get to know your local friends here, you might even have the chance to stay over in their house next time you are in Indonesia! … Only in Enchanting Indonesia 2011….
—————————————————————-
WE WANT YOU!
Enchanting Indonesia membutuhkan KAMU untuk ikut berpartisipasi dalam acara spektakuler tahunan ini! Kami membutuhkan Liaison Officer (LO) dan juga Volunteer untuk membantu kelancaran acara ini.
Apa sih pekerjaan nya LO dan juga Volunteer dan apa yang akan kamu dapatkan?
Liaison Officer (LO) bertugas untuk mendampingi para perwakilan daerah yang datang dari Indonesia yang menjadi peserta pameran di Enchanting Indonesia. Para LO bertugas untuk menjemput mereka di Airport, mengantarkan mereka ke hotel, dan juga ke arena pameran yaitu di Civic Plaza, depan Ngee Ann City (Takashimaya, Orchard). Para LO juga membantu kelogistikan para perwakilan daerah karena mereka pasti nya akan membawa banyak barang dari Indonesia.
Volunteer mempunyai berbagai macam tugas, tetapi setiap volunteer akan mempunyai satu tugas spesifik. Tugas-tugas volunteer diantara nya adalah membagi-bagikan flyer di jalanan, menjaga booth daerah, membantu para performers di backstage sebagai backstage crew, menjawab pertanyaan-pertanyaan dari pengunjung jika mereka mempunyai pertanyaan, menjadi bagian keamanan arena pameran, dll.
Syarat-syarat nya gampang kok untuk bisa bergabung, asal kamu friendly, mengenali rute-rute bus dan MRT (untuk LO), mampu berbahasa Inggris yang pasti nya kamu semua bisa, dan berada di Singapura dari tanggal 25 Juni hingga 3 Juli 2011, kamu bisa langung daftar!
Kenapa KAMU harus berada di Singapura dari 25 Juni saat acara nya sendiri diadakan pada 2 & 3 Juli 2011? Karena seminggu sebelum hari H, kami akan mengadakan briefing untuk para LO dan Volunteer untuk mempersiapkan KAMU tentang pekerjaan-pekerjaan yang akan KAMU lakukan pada hari H.
Jika KAMU berpartisipasi di acara ini, kamu pasti nya akan mendapatkan baju panitia Enchanting Indonesia 2011 dan juga honor sebesar $50!
Kami sangat membutuhkan banyak partisipasi KAMU agar Enchanting Indonesia tahun ini sukses. Jadi ayo tunggu apalagi, tambah pengalaman event organizing kamu, tambah teman, dan juga tambah uang saku dengan mendaftar hari ini juga sebelum tanggal 25 Mei 2011!
LINK FORMULIR: http://bit.ly/kg3NFY
———————————-
Apa itu Enchanting Indonesia?
Gambar : Poster Enchanting Indonesia 2010
Enchanting Indonesia adalah sebuah acara yang diselenggarakan oleh Kedutaan Republik Indonesia bersama dengan PPI Singapura untuk mempromosikan pariwisata Indonesia. Acara yang bertempat di Civic Plaza, Ngee Ann City (atau lebih dikenal dengan Takashimaya) ini menampilkan keragaman budaya Indonesia melalui berbagai macam tarian tradisional dimana para pengisi acara nya langsung dibawa dari masing-masing daerah asal mereka.
Acara ini akan dilaksanakan pada bulan Juli 2011. Stay tuned di sini untuk updatesnya!
Kunjungi stall-stall unik dari 14 provinsi Indonesia dan jelajahi keindahan Indonesia. Rasakan dan cicipi makanan dan minuman khas Indonesia seperti sate, gado-gado, gudeg, ayam penyet dan masih banyak lagi! Sebuah stand maskapai penerbangan juga siap melayani anda untuk merencanakan liburan anda ke Indonesia dengan harga yang sangat terjangkau. Jangan lewatkan Enchanting Indonesia!
————
What is Enchanting Indonesia?
Enchanting Indonesia is an annual program initiated by the Indonesian Embassy in Singapore together with PPI Singapura to promote the Indonesian tourism industry. The 2-day event which takes place at the Civic Plaza, Ngee Ann City showcases the diverse Indonesian culture through the many traditional dance performances flown straight from their native land.
Enchanting Indonesia will be held in July 2011. Stay tuned for the updates!
Visit all the unique stalls from 14 different provinces of Indonesia and discover the wonders that Indonesia has to offer! Visitors can also have a taste of some authentic Indonesian food and beverages such as satays, gado-gado, soto, ayam penyet and a lot more! An airline booth is also set-up for those who are interested in planning their trip to Indonesia in a very affordable price. Enchanting Indonesia sure is an event you do not want to miss!